The History of Sunnyside Cemetery
1875 - 1900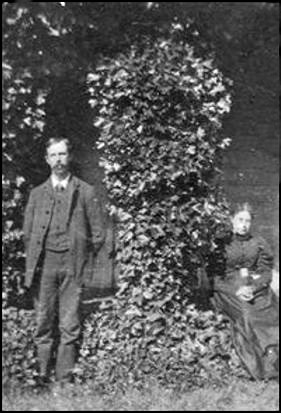 Dr. John Kellogg sold sixteen lots in his Sunnyside Cemetery between 1875 and 1886. But in 1887, competition loomed on the hill when A. W. "Win" Cook opened a third burial ground just north of Sunnyside on the former James Davis donation claim. Cook had come to Whidbey Island from Ohio in 1860 with his parents, Cyrus and Sarah Cook. Eight years later the Cooks purchased the Davis claim at county auction, a piece of land that had ties to the Ebey family, as James Davis was the brother of Rebecca Davis Ebey [wife of Isaac.]
By the late-1880s, Cyrus and Sarah had ended their marriage and it is probable that their son, Win, started his cemetery as a business venture to help support the family. On February 14, 1887, Win filed his cemetery plat with Island County, officially naming his new venture "Valley View". Just as Kellogg did in his Sunnyside Cemetery, Cook sold twenty-by-twenty foot lots in Valley View, each with space for eight graves [although he undercut Kellogg's lot price by five dollars.] And both Kellogg's and Cook's cemeteries were laid out in the graveyard style of that era, known as the "Rural" or "Garden" cemetery movement. The landscape of the Rural Cemetery was typified by six-foot wide "alley's" between the private burial lots, and a symbolic funerary décor that reflected the considerable impact of the Industrial Revolution on life in the United States, and how Americans commemorated death.
On November 3, 1891, just one week after filing his Sunnyside plat with Island County, Dr. Kellogg sold the remaining seventy-six lots in his Sunnyside Cemetery to Win Cook for two hundred dollars gold coin. Cook soon made two additional changes to the cemetery landscape. He expanded his original cemetery by thirty additional lots, filing a plat for the First Addition to Valley View Cemetery on March 24, 1893. And the following year, on September 20, 1894, he sold eighty-eight of his burial lots to two of Coupeville's oldest fraternal lodges, the Free and Accepted Masons [Whidby Island Lodge No. 15], begun in 1869, and the Independent Order of Odd Fellows [Glenwood Lodge No. 107], begun in 1872.
Fraternities were a critical component of community life in the nineteenth and early twentieth centuries. Not only did they provide men with a social outlet, and a structure for performing good deeds for their community, the organizations also functioned as a safety net in those years before Social Security, an insurance policy of sorts in times of trouble. Fraternity members paid fees to their organization which, in turn, provided a pool of money to members and their families in times of sickness and death. Fraternities also provided burial space for their members, and consequently organized the first cemeteries in many an American community. For that reason, a joint commission of the Masonic and Oddfellow lodges in Coupeville purchased the seventy-six lots from Cook for four hundred thirty-five dollars in gold coin, so that their present and future members would be taken care of in death. As one walks through Sunnyside Cemetery today, symbols of those fraternal allegiances are readily seen, carved prominently on the monuments of their members.